Menopause will occur in a person born with ovaries, but the experience will differ depending on their gender identity.
If the person has surgery to remove the ovaries before midlife, the symptoms of menopause will begin soon after the procedure. Because the effects do not develop gradually, they may be more abrupt and severe than in natural menopause. Male hormone supplements can either mitigate or exacerbate these effects.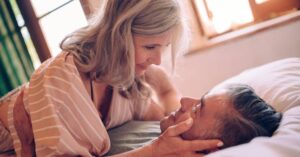 Females in same-s£x couples who go through menopause naturally in their forties may find that their partner can provide positive support for changing s£xual emotions and activity. According to some research, same-s£x couples may also face stigma and societal pressures that add to their stress and make it more difficult to seek help.
People who were assigned male at birth but have transitioned to female may continue to use hormone therapy for the rest of their lives. Menopause-like symptoms should be limited as long as they continue treatment. Although hormonal fluctuations are unlikely to affect their libido, age-related changes may.
lowering s£xual complications
Menopause's physical and emotional effects can lead to a decrease in lovemaking activity. Staying s£xually active, on the other hand, can help prevent these complications. This is because regular activity can help the vagina remain healthy, especially after menopause.
Regular s£xual stimulation aids in the promotion of blood flow to the vagina and the preservation of the vagina's elasticity, depth, and overall shape.
Over-the-counter medications are frequently effective. However, if these do not work, a doctor may prescribe medication.
Here are some simple ways to reduce s£xual complications: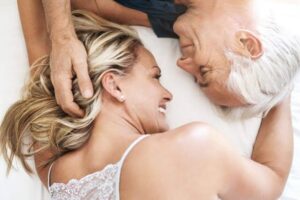 • taking part in regular s£xual activity
• Using a vaginal lubricant before intercourse
• Use a vaginal moisturizer regularly before intercourse.
• avoiding dryness-causing detergents, soaps, oils, and washes
• cleansing with lukewarm rather than hot water
• Increasing foreplay or engaging in activities that stimulate s£xual arousal
• taking part in couple bonding and strengthening activities
• Stress management through exercise and relaxation activities
• consulting a therapist or counselor
• attempting to rekindle passion or repair partner relationships
• experimenting with new or different s£xual activities
• Take care of any vaginal irritation, infections, or inflammation
• keeping hydrated
• avoiding skin-irritating materials
Treatment of s£xual complications
Many women do not seek treatment for menopausal symptoms. The effects fade over time and eventually disappear.
However, treatment is available for those who are experiencing severe and long-lasting effects. Doctors, for example, may prescribe medications or creams containing estrogen, progesterone, or both.
Options may vary depending on the individual:
1. Topical estrogen or progesterone cream
A doctor can prescribe vaginal rings, tablets, creams, or suppositories to be applied directly to the vaginal tissues. These can aid in the reduction of dryness.
2. Replacement of menopausal hormones
This can aid in the reduction of vaginal dryness, discomfort, and pain during s£x, as well as hot flashes, mood changes, and mild depression.
3. Medications intended to treat other conditions
Some medications used to treat depression, anxiety, epilepsy, and high blood pressure may also aid in the reduction of hot flashes and mood swings.
However, it is important to note that hormonal treatment options may not be suitable for everyone, as they may cause side effects. A doctor may not recommend them for people who have high blood pressure, a high risk of blood clots, or a variety of other conditions.
Options for alternative treatments
Some women use herbs and supplements to alleviate the symptoms of menopause, but research has yet to confirm their safety or efficacy.
• These are some examples:
• cohosh (black cohosh)
• Primrose in the evening
• the red clover
• Quai dong
• ginseng
• Plant estrogens are found in legumes like soybeans and chickpeas, as well as some whole grains, seeds, and fruits.
The Food and Drug Administration (FDA) does not monitor the purity or quality of herbal medications and supplements. People should always buy from a reputable sources.
Many herbs have the potential to interact with medications. Before using herbs or supplements, people should consult with a doctor.
Bio-identical hormone replacement therapy
Bio-identical hormone therapies, which pharmaceutical companies have developed to try to counteract the risks associated with traditional hormone therapies, are another option for reducing the effects of menopause.
Plant hormones are used in these medications. Although they may be tolerated better by the body than other hormone therapies, they are not identical to human hormones.
Many have been approved as safe and effective alternatives.
The North American Menopause Society recommends that people avoid custom-made bio-identical hormone medications. These are hormone mixtures created by pharmacists and tailored to individual needs. The preparation of drug mixtures by pharmacists, doctors, nongovernmental laboratories, or individuals is not regulated, so there is no guarantee that they are safe or effective.