10 Best Medical Apps for Patients
The rise of mobile health technology has produced a wide array of well-designed medical apps that can be used by both health professionals and patients. These medical apps provide convenient access to helpful information, quick diagnoses, and fast communication with physicians.
Ranging from health-mindfulness apps to innovative remote-monitoring systems to practical symptom-checkers, the best medical apps can provide real value to motivated patients and allow for better management of their own health. This list contains 10 of the best medical apps for patients available today.
10 Best Medical Apps for Patients
Ada: This app is designed to help you understand your symptoms, assess your risk of illness, and give you personalized health recommendations.
First Aid: An app by the American Red Cross that provides step-by-step first aid instructions for nearly 200 conditions.
Pillboxie: This pill reminder and organizer helps users keep track of what medications they need to take and when.
 iTriage: This app helps users diagnose their symptoms and find nearby healthcare services that best suit their needs.
HealthTap: This app connects users with physicians who answer questions in a live chat. It also provides personalized health advice based on user data and access to medical records.
iHealth: iHealth offers an array of mobile health-tracking solutions that combine hardware sensors and software applications to help people manage and track their health.
Healthy 365: Healthy 365 is a health and wellness tracking app that allows users to track their physical activities, monitor their health goals, and take simple steps to maintain their well-being.
WebMD: WebMD is an award-winning health app that provides information and resources on wellness and lifestyle choices, medical conditions, drugs, treatments, and procedures.
Mayo Clinic: Mayo Clinic is a comprehensive health and wellness app that aggregates content from the experts at Mayo Clinic and delivers it to help patients take charge of their health.
Babylon Health: Babylon Health is an AI-driven digital health app that allows users to get medical advice online from experienced healthcare professionals, and get 24/7 video and audio appointments with a doctor.
What is A Medical App?
A medical app is a mobile application designed to provide consumers, patients, healthcare providers, and medical professionals with easy access to medical information, care, and resources. These apps enable users to store and access personal health and medical information, monitor fitness levels, book and manage appointments, access wellness resources, and communicate with healthcare providers and other medical professionals.
Medical apps come in a variety of forms, from medical reference applications that offer detailed information about various medical conditions to health-tracking applications that allow users to monitor and track their fitness and health stats in real-time. Other types of apps include medication reminders and medication organizers, appointment managers, health trackers, ECG recording and analysis tools, telehealth video consultation applications, and disease management applications.
Medical apps can provide patients with convenient, low-cost access to basic medical care and information, opening up new opportunities for self-management of health and wellness. These apps can provide patients with information and resources to help them understand their medical conditions and provide assistance with managing chronic conditions and diseases. Additionally, the utilization of medical apps to monitor and collect information about medical conditions can enable healthcare providers to ensure patients receive the correct care and treatment.
Medical apps have the potential to revolutionize healthcare, providing cost-effective access to medical care for both patients and healthcare providers. Through the use of medical apps, patients can take control of their own health and access personalized treatments, while providers can reduce costs, improve the quality of care, and offer better communication and access to resources for their patients.
What do patients want in a Medical App?
Patients expect a medical app to provide tailored, personalized healthcare advice, services, reminders, and educational materials. They want an app that is user-friendly, secure, and reliable.
Personalization: It's important for physicians to understand the specific needs of their patients in order to provide the best care possible. A medical app should provide patients with personalized health recommendations that are tailored to their specific needs.
Secure User Experience: Patients expect their private information to remain secure when they are using the app. Medical apps should prioritize user security and ensure that all of a patient's private data is securely stored.
Reminders and Alerts: With so many appointments to remember, medical apps should be able to send notifications and reminders to remind patients of upcoming appointments and alert them to any changes in their care.
Educational Resources: Patients want to learn more about their conditions and be empowered to make informed decisions about their own health. A medical app should provide patients with easy access to relevant educational materials about their condition and recommended treatments.
Easy Accessibility: Medical apps should provide users with easy access to their personal medical information, such as lab results, medication lists, and doctor's notes.
User-friendly Interface: The medical app should have an intuitive user interface that is easy to use. A cluttered, confusing interface will discourage patients from using the app and diminish its overall usefulness.
Reliability: Patients want to be sure that the medical app is reliable and will be available when they need it. The app should be tested and refined regularly and kept up-to-date with the latest technology.
List of 10 Best Medical Apps for Patients
Ada:
Ada is a free medical app that provides easy access to personalised health advice, in just seconds. It uses artificial intelligence to assess a user's information, like symptoms, age, and gender, and then returns expert-based health advice on topics such as allergies, skin conditions, mental health, nutrition, and sexual health, relevant to the user's area.
Key features:
Access to personalized health advice

AI-powered symptom checker

In-app health tracking and insights

Ability to connect with professional healthcare services

Available in over 40 countries worldwide
Review:
Ada has earned praise from users for its comprehensive and easy-to-use interface. It's also been commended for helping users assess their symptoms and find the best course of action. Users appreciate the app's accuracy and detailed advice, which has been commended by medical professionals. Lastly, the app's ability to connect users with professional healthcare services and support is seen as a valuable element in providing medical care in the digital age.
First Aid:
First Aid is an Android and iOS medical app developed by the American Red Cross.
Key Features:
Step-by-step instructions for everyday first aid scenarios.

Videos and interactive quizzes to help you learn the right way to respond in an emergency.

Nearby doctors, hospitals, and pharmacies, so you can get help quickly if needed.

Access to Red Cross emergency notifications, direct from the source.

Information about building a personalized first aid kit.

Easily share information with family and friends.
Reviews:
The app has a 4.8-star rating out of 5 stars on the Google Play Store and a 4.7-star rating on the App Store. Most users have found the app to be incredibly useful and reliable in both emergency and everyday scenarios. Many users have commented on the accuracy and usability of the instructions, while others have said it's very intuitive and easy to navigate. Overall, users have found the app to be an invaluable tool for first aid purposes.
Pillboxie:
Pillboxie is a user-friendly medication management app that provides users the ability to keep track of their daily medications and medical appointment reminders. The app allows users to easily store all of their medication information, including the pill name, dose, frequency, and any other notes needed. Pillboxie also contains a color-coded pill reminder system, which allows users to set up recurring alarms and notifications for when to take their medications. Additionally, Pillboxie allows users to add additional information such as allergies, side effects, and upcoming doctor's appointments.
Key Features:
Color-coded, customizable pill reminders

A full medication list to save data such as medication name, dose, frequency, notes, allergies, side effects, and doctor's appointments

Snapshots of current and discontinued medications

A calendar view of all active and past medication reminders

The ability to add custom images to your medications

Password protection for added security
Review:
Reviewers of the app generally give Pillboxie positive reviews, praising the app for its intuitive user interface, easy setup process, and comprehensive set of features. It is also highly rated for its ability to allow users to stay organized and on top of their medication dosages and medical appointments.
iTriage:
iTriage is a health app designed to help individuals make smarter healthcare decisions. The app allows users to quickly search for symptoms, medical facilities, and providers in their area and get access to health information regarding treatments, medications, and conditions.
Key Features:
Symptom Checker: Quickly search for symptoms to find possible causes and treatments

Find a Doctor/Facility: Search a database of thousands of providers and medical facilities to locate the right care for you

Health News: Stay up to date with relevant health news

Health Library: Access to over 1900 health topics and condition descriptions

Track Health Data: Track health measurements such as cholesterol, blood pressure, and body weight

Up-to-date Price Estimates: Provides estimated health care costs and insurance networks
Reviews:
The app has an overall rating of 4.7 stars out of 5 in the App Store and 4.6 stars out of 5 in Google Play. Users praise the app for its accuracy, convenience, user-friendly design, and comprehensive health library. However, some users have complained about difficulty navigating the app and unreliable health cost estimates.
HealthTap:
HealthTap is a medical app developed by a team of medical professionals with the goal to bridge the gap between doctors and patients. It is designed to connect doctors and patients, allowing users to access medical information, obtain personalized health advice, and ask questions.
Key Features:
Connect and interact with a network of more than 107,000 U.S. licensed doctors, enabling users to get personalized advice.

Easily access medical information on a variety of topics from doctors in the network.

Get notifications from HealthTap Professional, a network of doctors that have volunteered to answer questions free of charge.

Ask questions and receive answers from a network of verified and trusted medical professionals.

Track, manage, and monitor users' personal health information.

Save all recommendations, updates, and messages in one place.
Reviews:
HealthTap has a 4.7/5 rating on the Apple App Store and a 4.5/5 rating on Google PlayStore. Many reviews praise the app for its ease of use and its helpful content, including questionnaires, explanation of medical terms, and columns by local doctors. Users have also praised the app for its ability to connect them with experienced medical professionals. Given the medical app's focus on patient health and well-being, HealthTap has been reported to be a valuable tool for seeking medical advice and managing health information.
iHealth:
iHealth is a healthcare-focused mobile app designed to help users improve and track their physical and mental health. It is available for both iOS and Android users. The app provides users with personalized health advice and guidance, tailored to their lifestyle, goals, and health history. It also provides access to health-related articles from trusted sources and provides users with the ability to set goals and track progress.
Key Features:
Personalized health advice: The app offers personalized advice and guidance by taking into account users' lifestyles, goals, and health histories.

Goals and tracking: The app allows users to set and track health-related goals.

Gamified challenges: The app provides users with the ability to compete against other users in challenges.

Health-related articles: The app offers access to trusted health-related articles.

Connected Devices: The app connects with devices like the company's MyVitals monitor to provide personalized health insights.

Support: The app offers 24/7 support via a dedicated customer service team.
Reviews:
Users of iHealth are generally pleased with the app, with many citing its ability to provide helpful health advice and guidance as its primary appeal. The majority of reviews are positive, with a few criticisms pointing out that the app can be slow to access health-related articles and update goals and tracking information.
Healthy 365:
Healthy 365 is a Singapore-developed mobile app managed by the Health Promotion Board. It provides reliable health and fitness support through the integration of its features and functions. The app helps Singaporeans track their health goals, sleep patterns, calorie intake, and physical activities, as well as access health and fitness-related information and updates. It also provides rewards and personalized health insights to motivate users to stay healthy.
Key Features:
Health and Fitness Coach: Users can track their health goals with the app's personalized progress tracker and health tips.

Rewards: Users can get rewards on the app for meeting their health goals.

Sleep Analysis: This feature tracks users' sleep patterns and provides insights into how to improve them.

Personalized Health Insights: This feature gives users personalized health advice and insights based on their lifestyle and habits.

Activity Tracker: This feature allows users to record and track their physical activities, such as how much time they have spent exercising and calories burned.

Nutritional Tracker: Users can track their food and calorie intake with this feature.
Reviews:
Healthy 365 has been well-received by users, with many praising the app for its user-friendly interface and plethora of features. Most users found it easy to use and appreciated the personalized health insights it provides. Some users noted that the app may not be as comprehensive as other health and fitness apps but that it is a great tool for tracking health goals.
WebMD:
The WebMD medical app is an all-in-one mobile app that helps people manage their health and wellness. Through its intuitive dashboards and features, users can track their weight, monitor their diet, get telemedicine advice, find medical help near them, obtain prescription refills, and more.
The WebMD app covers all aspects of health. By inputting information such as career, age, lifestyle, allergies, and existing conditions, users can easily build their personal health profiles. The app also contains the latest clinical guidelines, records patients' histories, and helps manage drug regimens.
Key Features:
The WebMD app offers interactive tools such as symptom checkers and health trackers and content from various channels such as blogs and videos. It contains tools to help people search for medical practitioners, find quality healthcare services, and compare drug prices. Additionally, the app includes features such as e-Prescriptions, medication reminders, and access to medical records.
Reviews:
The WebMD medical app has received good reviews from both consumers and medical practitioners alike. Most consumers find it highly useful in monitoring their health, getting access to medical advice, and learning about diseases and treatments. Health professionals who use the app praise its user-friendly interface.
Mayo Clinic:
Mayo Clinic's medical app is a comprehensive health resource app built to provide users access to reliable health information, resources, and related services. The app provides up-to-date health information, educational resources, physician-authored health content, comprehensive and personalized health insights, and helpful tools and services.
Key Features:
The Mayo Clinic app provides a unique personal health record that helps users keep track of their health information in one place. Users can track and view medical data from Mayo Clinic clinics, hospitals, and other health service providers. Users can also store medications, lab tests, medical histories, family histories, and vital signs.
Other features of the app include an interactive symptom assessment and checker, an evidence-based library of health information articles, a health topics library, health videos, and tips to improve health. Users can also access appointment scheduling, prescription renewal, and physician search features.
Reviews:
The app has generally received positive reviews from users. Users have noted that the app is reliable, helpful, and user-friendly. Users have also praised the app for providing access to a wide range of health information and resources.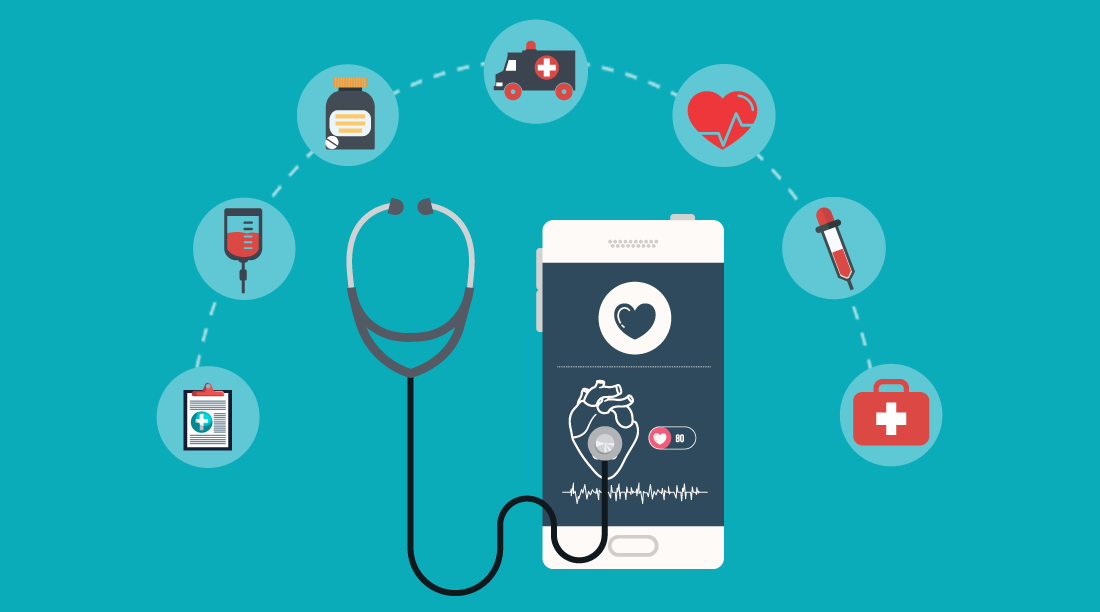 Babylon Health:
Babylon Health is a medical app created to provide users with access to digital health care. The app aims to bring health care and medical advice to users at any time of the day or night in a simpler and more convenient way. It provides users with a variety of features, including symptom checking, a chatbot-based AI-powered diagnosis system, e-prescriptions, medical appointments, and psychological support.
Key Features:
The app also features user-friendly medical records, enabling users to easily read and track their medical history. Moreover, it offers community health advice, information about specialist care, and advice on specific medical treatments. Users are able to store their information securely in the app.
Reviews:
Users generally give Babylon Health positive reviews. Many appreciate its easy-to-use nature and the convenient access it offers to medical services. The majority of reviews also praise the helpful and prompt customer service offered by the team. Additionally, some users praise the comprehensive nature of the app's available features.
FAQ
What is the best medical app for iPhone?

The best medical app for iPhone depends on what your medical needs are. Some of the most popular medical apps include WebMD which is a comprehensive medical app, offering symptom checkers, medication and treatment references, doctor directories, and much more. Another popular medical app is the Mayo Clinic App, which offers a symptom checker and self-assessment guides.

What is the best app for medical records?

The best app for medical records is One Medical. Founded in 2007, One Medical is now the leading provider of digital medical record services. With a convenient app, security-enhanced platform, and rapid sharing of encrypted medical records, One Medical provides a comprehensive digital solution for both individual and group medical record management. It is also integrated with major medical systems, such as Epic and Cerner, to ensure fast and secure sharing of medical records.

Best medical apps for providers

Best medical apps for providers include EMR (electronic health record) solutions, lab results tracking, patient care tracking, clinical and practice management apps, medical calculators, and other patient support and reference tools. EMRs allow healthcare providers to quickly store, access, and share patient records while tracking patient progress. Lab result-tracking apps streamline the process of capturing and organizing lab results from various sources. Patient care tracking apps allow providers to coordinate care and track vital signs and other lifestyle components. Clinical and practice management apps help to improve operational processes and workflow. Medical calculators provide a quick and easy way for providers to calculate dosages and other medical equations. Lastly, patient support and reference tools provide access to information such as drug interactions and disease management resources.
Conclusion
The 10 best medical apps for patients mentioned above provide users with a comprehensive and user-friendly platform to access information about their health and well-being. These apps allow users to track their medical history, set health goals, search for medical programs, and access helpful resources such as health-related news and communities. More importantly, these apps provide users with the means to stay connected with healthcare providers and take proactive steps toward managing their health. Ultimately, these apps hold the potential to transform healthcare and enable patients to make informed decisions about their health and well-being.